I

ndividual

Q

ualification

C

ertification 

I

nstitute of

A

merica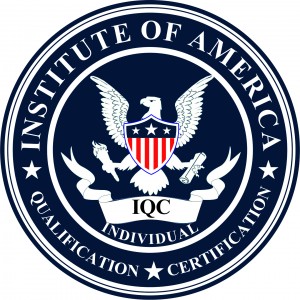 After an abundance of workplace fatalities, the industry identified the gaps in qualified people supervising AST projects. The Individual Qualification and Certification Institute of America was formed to bridge those gaps. The Goal is to provide the "BEST" method of assurance; that the individuals are well-trained and fully qualified to perform this work. Our mission is to train supervisors in the best safety practices, thereby reducing the number of on-site fatalities and injuries. 
IQCIA Board of Directors
The IQCIA Board of Directors is a dedicated group of professionals from all levels and disciplines involved in Above Ground Storage Tank Operations and Projects.
IQCIA Master TES Qualification and Certification Officer

 

Credentials
The IQC TES Master QCO (Qualification Certification Officer)  has compiled 33 years experience with AST operations from an operator, supervisor, instrumentation, project management, inspection, tank cleaning, rescue and construction capacity. The past 12 years were primarily working with Above Ground Storage Tank disasters, IDLH Technical Tank operations and IDLH  AST Confined Space Rescue. The IQC TES Program employs various safety professionals and experts working within many aspects of AST operations, and the occupational health, safety and training field.
Master QCO Qualifications and Certifications include:
Occupational Health and Safety Certificate, Occupational Health and Safety Diploma

American Registered Safety Professional (Board of American Registered Safety Professionals)

Certified Health and Safety Consultant (through American Society of Safety Engineers)

Certified Petroleum Health and Safety Auditors (through OSHA PLANS and the CSTRA)

Certified Construction Health and Safety Auditors (through American Construction Safety Association)

Certified Instructors (through various post secondary institutions)

Certified National Construction Safety Officers (through Construction Safety Associations)

Certified Master Trainer CSR Operations (through the Confined Space Technical Rescue Association) Master Instructor Mines and Rescue Operations  (MSHA)

Master T-2 Safety and Anti Pollution Devices  (USGS, MMS, Department of the Interior)


Level IV Incident Commander (Department of Emergency Management, FEMA, Department of Defense) Emergency Management Specialist (Department

of Emergency Management, FEMA)

IDLH Confined Space Technical Rescue, Master Instructor (through the Confined Space Technical Rescue Association)

AST / Confined Space Rescue Expert ( Cambridge)

Certified OSHA Safety Specialist (through OSHA Plans and various post-secondary institutions)

Certified Safety and Rescue MSHA (through Mine Health and Safety Administration)

Recipient Cambridge Who's Who Executive of the year Emergency Rescue Operations 2011/2012